Approach To Teaching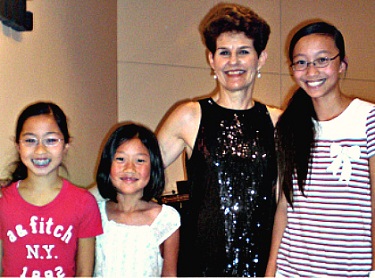 Motivation. Piano Partner McLean motivates students because they engage in a variety of practice activities - rhythm, conducting, sightreading, composing, singing - to keep practice fresh. As students master these skills through the discipline of daily practice they grow in poise and confidence.
The Program. Students cover material in 5 important areas each year: repertoire, technique, ensemble, sightreading and theory.
Repertoire. Musically rich and carefully chosen to support student's current technical and musical skill level. Repertoire includes short pieces that turnover frequently so students always work on new material as well as long-term pieces that stretch students' capabilities. Students always choose music for the longer projects.
Technique.
Students practice lots of technique. Like sports, technique drills patterns common to all music. Playing these patterns with ease forms a reliable technique and enables students to play repertoire of any difficulty. The most important component of reliable technique is the production of a rich sound freely produced by coordinating the shoulder, arm, hand and fingers. Students use the Russian Technical Regimen in their daily technical practice in order to play without tension. Each fall students participate in The Piano Olympics with Aleksander Peskanov, a superb pianist and composer, who comes from New York to evaluate their technical progress. Students love to watch themselves progress to a new level each ear and – it's fun! Listen to the videos below to hear Mr. Peskanov's coach a student and to hear his virtuosic pianism.
Ensemble. Students play a lot of ensemble music in the studio, both with teacher and with each other. Each student has a duet partner for the year. Ensemble playing encourages good listening and counting skills, balance of sound and teamwork.
Sightreading. Students who play the piano throughout their lives are either fluent readers, have a good ear, or both. Daily sightreading produces confident students who learn music quickly and who possess strong musicianship and ensemble skills. Students keep a sightreading log and are assessed regularly.
Theory and Ear Training. Students complete regular theory assignments and take an annual exam. Studying theory helps students understand how composers structure and write music and enables them to quickly recognize patterns in a score. Ear training improves students' ability to recognize aural patterns. An acute ear makes a sensitive and attuned musician.
Performance. Students perform often because they love to play. They feel confident performing in events suited to their skill level and desire. All students play in 3 required Studio events each year. All students participate in the:
NVMTA/VMTA Fall Festival - non-competitive
NVMTA/VMTA Sightreading Day - skill assessment
NVMTA/VMTA Theory Mastery Day - skill assessment
NVMTA Bach Baroque Festival and Competition - both competitive and non-competitive
NVMTA Sonata Festival and Competition - both competitive and non-competitive
Piano Olympics with Alek Peskanov - celebretory
Competition. Enthusiastic students have many opportunities to play in competitive events. Other students may feel more comfortable entering lower-key events until they are ready for a higher intensity experience.
Alex Peskanov Demonstrates Level 1 Broken Chords to Young Student