Practice and the Role of Parents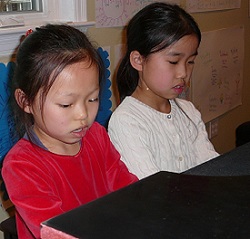 The Role of Parents: Parents are in a unique position to guide their musicians in productive daily practice. This guidance plays a vital role in the success of their musician's successful piano study. For students through age 12 or 13 it is important that one parent attends the lesson regularly. Parents experience the exhilaration of seeing their musician's steady improvement. They also see which areas of study they can strengthen during practice. Family time through music practice shows young students how much parents value their hard work.
Practice and Lesson Preparation: Students make progress when they practice daily. Guided by the parent, they should complete part or all of each element of the assignment.
Dividing the practice: Many children are most alert in the morning; practicing ½ or all of the assignment before school is an excellent way to manage the practicing schedule. Students should always practice the days before and after the lesson.
Recording the Lesson: Parents are strongly encouraged to record the lesson. Students learn more quickly by listening to recordings of their pieces by the teacher. The recording assists practice when students review those parts of the lesson that need review.
Attending Concerts: Each fall the Washington Performing Arts Society (WPAS) generously offers young pianists and their families deeply discounted student tickets to concerts of the outstanding musicians of our day. Listening to great instrumentalists improves students' playing; all students are strongly encouraged to take advantage of this wonderful opportunity.