The Program, Parents and Resources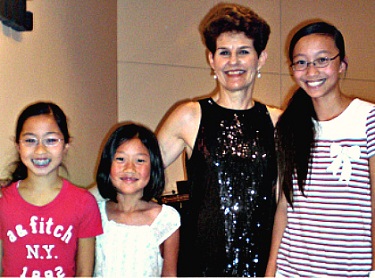 Motivation. A variety of musical activities keeps practice fresh and motivates students.
The Program. Repertoire, technique, piano duets and ensemble, sightreading and music theory.
Repertoire. Musically rich and carefully chosen to support technical and musical skills, including short pieces that turnover quickly and challenging pieces that stretch capabilities.
Technique. Like sports practice, technique drills patterns common to all music. Mastering these patterns enables students to play repertoire of any difficulty. Technique includes the production of a rich sound freely produced by coordinating the shoulder, arm, hand and fingers.
Ensemble. Ensemble playing encourages sensitive listening, balance of sound and teamwork.
Sightreading. Through daily sightreading, students learn music quickly and easily. They keep a sightreading log and are assessed regularly.
Theory and Ear Training. An acute ear makes a sensitive and attuned musician. Exploring the structure of music helps students quickly recognize patterns in the score and ear training improves their recognition of aural patterns. They complete regular theory assignments and take an annual exam.
Performance. Students perform often because they love to play and they perform in events suited to their skill level and desire. All students play in 2 required Studio events each year as well as numerous competitive and non-competitive events, beginning with lower-key events until they are ready for higher intensity experiences.
The Role of Parents
Practice: Parental guidance plays a vital role in the success of piano study. Parents oversee students' daily practice and ensure that they observe the weekly assignment. Many children are alert in the morning and practicing before school is an excellent way to manage the schedule. Each student receives both The Parents' and The Students' Guide to Effective Practice, by my colleague, Nancy O'Neill Breth. These guides assist both parents and students to practice creatively and efficiently.
Attending the Lesson: Through age 12 or 13 one parent must attend the lesson regularly. Parents observe their musician's progress and know which areas need to be strengthened. Family time through music practice shows young students how much parents value their hard work.
Recording the Lesson: Parents are strongly encouraged to record the lesson. The recording assists practice and students learn more quickly by reviewing important parts of the lesson to recordings of their pieces by the teacher.
Resources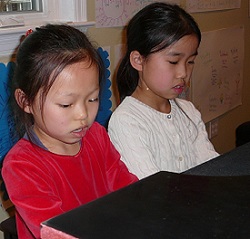 Piano Technicians: Jim and Alex Colwell
Music Store: Foxes Music
Guitar Teacher: Eric Waters
Music Teacherns National Association
Northern Virginia Music Teachers Association